It's all in the details! One often overlooked detail is switchplates- often this is by necessity, as anything other than the standard white plastic can get quite costly when you add to every single switch and outlet in your home. I dream of one day outfitting my home in lucite
Forbes and Lomax,
but until then...
These Greek key brass plates are fantastic and affordable. The design around the edges reminds me classic apartment building mailboxes!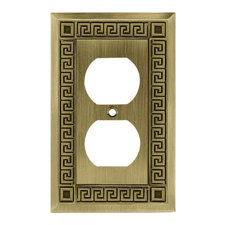 They also come in a silver finish:
Check out the entire selection on Wayfair,
here
.