Several years ago, before ikat was big, I decided to buy an ikat sofa. It was bright. And a really big application of a really bold pattern. I loved it for a while but then started to hate it.
I bought it before I knew much about decorating and before children. Boy have I learned a thing or two. First off, I would never use such a big pattern on such a large piece of furniture. Second, the fabric is drapery fabric. Fine to hang on the windows or use on accent pillows, but not a good upholstery fabric. It stains easily and does not wear well, at all.
When I was thinking about what to use on the sofa, some outdoor fabrics piqued my interest. I have been amazed at how far indoor/outdoor fabrics have come over the past few years. They used to be shiny and feel plastic-y. Now they include everything from velvets to linens to prints and patterns and everything in between. No matter how careful I am, my sofa always seems to attract jumpy feet and sticky fingers. So I decided an indoor/outdoor fabric would be the perfect answer, if I could find one that I liked.
I wanted to tone down the color scheme in the room, getting rid of the reds and yellows and just using greens and blues. After ordering a swatch of this blue zig zag outdoor fabric, I fell in love. It had enough pattern to keep it interesting, but not enough to overwhelm the room like the ikat.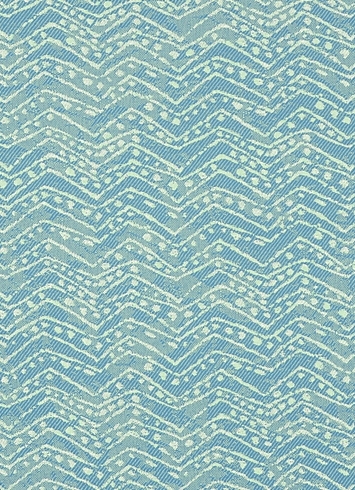 The ikat sofa was still very comfortable, the appropriate size for the room, and was in good shape, so I decided to recover it rather than buy a new frame.
The ikat sofa originally had two cushions, which didn't bother me when I purchased it. But I quickly learned that on a two cushion sofa, only two people will sit on it (no one wants to sit on the crack!), so basically it functioned like a loveseat. So my upholsterer made new cushions for it to make it a 3-cushion sofa. Now three people can sit comfortably without anyone falling into the crack in the middle.
(please excuse the complete lack of styling here- this is how my sofa looks this very minute)
I used an ivory outdoor fabric in the light accent color for the piping. Contrast piping gives furniture such a custom look.
A new rug is definitely high on my list. However, the rug was bumped down a bit when water poured through our ceiling last week due to a shower pan failure upstairs...
We've had the sofa about 2 months now, and it still looks PERFECT. Everything just rolls right off of it. I joke that we could hose it off to clean it, but I don't think we will ever need to. I am officially a huge advocate of using outdoor fabric indoors!
One of these days I will get this room finished and photographed and show you the whole thing!