Brass is undeniably glamorous. Sure, some not-so-chic versions of it existed in the 1980's, but using a piece or two in moderation can really elevate the style of a room.
I have had two AMAZING glamorous brass finds recently.
The first is a brass and lucite console table. Photographing lucite is a skill I have not yet mastered, but this table has a heavy brass base and top with lucite sides, topped with glass.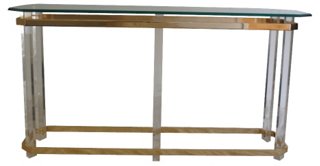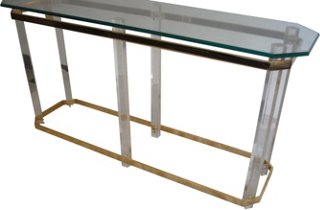 I love how it modernizes an otherwise traditional room, like this:
And saving the best for last... (I must give credit to a verrrryyy savvyyyy friend for this find):
A huge solid brass elephant tusk DINING table!! Can you imagine entertaining your friends at dinner around this table?! And there is a cool story behind the table. Only four of these tables were ever made. Two were retained by the maker, and the third was used as the dining table on the set of the television show Dynasty. This table is the only one privately owned (I bought it from the furniture designer's brother). How cool is that??!!
This table is seriously incredible- puts the oh-so-desirable brass antelope head coffee tables to shame! It goes up for sale tomorrow on
OKL
- my fingers *might* be crossed that it doesn't sell so I can keep it in my house! At least for a little while!