I can't decide how I feel about polka dots. I want to love them, but I am just not sure. Maybe it is too many Pottery Barn Teen catalogs, but sometimes polka dots leave me feeling like they belong in puffy pink tween bedrooms.
Let's take a look.
I so badly want to love this little vignette, but I can't help but wish that these stools were any fabric other than polka dot.
House Beautiful
I *think* I like polka dots on this French tub chair. I think.
I don't mind dots in this Sarah Richardson nursery. They seem appropriate for a nursery, especially when paired with other "mature" fabrics.
via hgtv.com
In a modern home, I do like this polka dot art piece, paired with sleek midcentury furniture.
via Metropolitan Home
One way to ease yourself into using polka dots is to find a fabric with abstract dots that don't have perfectly circular lines.
House Beautiful
Brunschwig and Fil's Les Touches is part polka dot, part animal print. I love it.
I used abstract dot fabric in my little girl's nursery.
For clothing, I do love small swiss dots.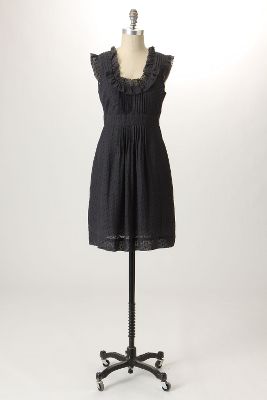 Anthropologie
And tonal dots.
And I am tempted by this navy and white Old Navy top (although being tall and curvy, I am not sure if I can pull it off. Maybe it's best left to petite, gamine body types).
Do you like true polka dots in your home and wardrobe, or do you prefer less literal, more abstract or tonal versions?