If I had to chose one brand to outfit my entire life- from work clothes to cocktail dresses, resort wear to winter coats, without a doubt I'd choose Milly. No one does sophistcated, yet youthful, glamour like Michelle Smith. I was perusing the Fall 2010 collection and noticed that tights feature prominently into their looks...then I realized that out this fall is a
Hue by Milly
collection of tights!
I love the idea of using tights to make an outfit. They're a great retro throwback, yet something that most women tend to overlook today, myself included. I wear black opaque tights quite a bit in the winter, but I am decidedly lacking in adventurousness when it comes to colors and patterns.
Part of the reason I'm afraid to wear patterned/textured tights is that sometimes they can come off looking cheap. I mean, most of us don't have the type of job befitting fishnets, if you get my drift. But I'm loving the sweet and sophisticated look of these aspirin dots.
Here they are in a slightly darker shade, which I think might be a bit more versatile.
Ooh la la! I might have to give some lacy tights a try. Don't they look fab with a black dress? I think if you keep the dress and shoes simple, and the look monochromatic, the tights really sing rather than compete.
I haven't worn sheer pantyhose in goodness knows how long. But if Milly says they're back, I might have to give them another look.
Admittedly the look below isn't for the office. But I love the idea of a pair of brightly colored tights. This is an area where you have to go big or go home. A subdued pink would look too little girlish.
For something a bit cheaper than Milly tights, try these
Bold nylon tights
from Urban Outfitters, $12.50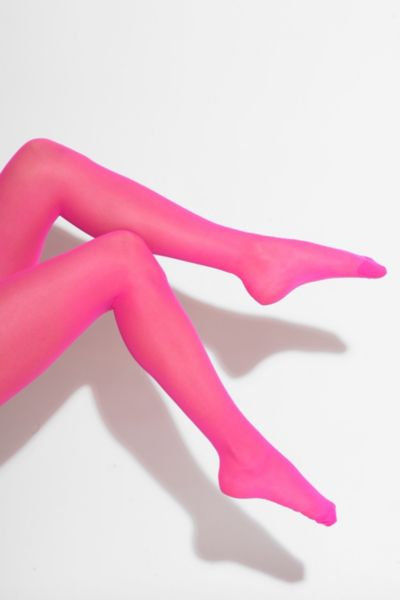 I'm loving the entire range of Milly tights...except I do have my reservations over the
anchor chain
pattern. For some reason these look like they belong with a pirate wench costume, ha!
I believe that Bloomingdales is carrying the HUE by Milly line. Has anyone seen the collection in stores?