Popped into the Anthropologie on M Street the other day (alas, they were not participating in JLW's
Shop Hop
so I had a mental block on buying anything). But while I was there I spotted the snazzy
First Mate Blazer
(note: this is not on sale online, but it was marked down to $69.99 in the store).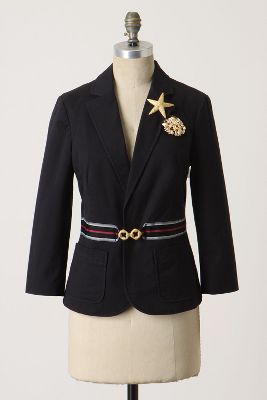 Note the eye catching nautical broaches, which got me thinking...
It would be supremely easy to re-create this look with a blazer or jacket of your own and some inexpensive broaches, preferably vintage. Admittedly, I never buy broaches because I'm afraid of ending up looking a little costumey. While I love the 60's aesthetic of Mad Men, when taken too literally it could look matronly.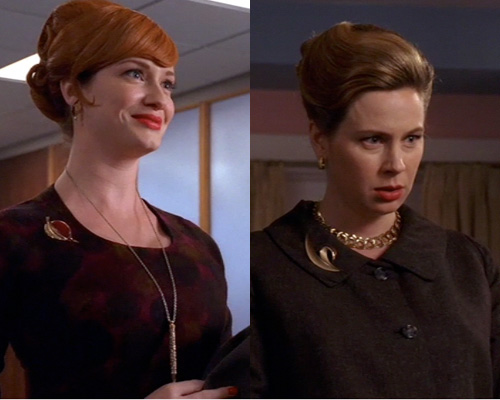 But, I think the key to re-recreating this look would be to juxtapose a collection of vintage broaches on a jacket or dress with a decidedly modern cut. Keep a consistent theme with the broaches- nautical, chinoiserie, birds, fish, etc. A few promising options:
Starfish pin,
Ebay

Starfish Pin,
Ebay

Sea Creature Pin,
Ebay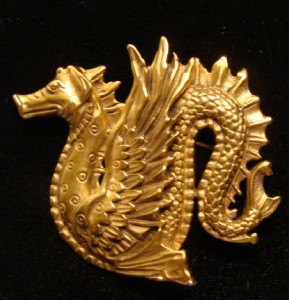 Enamel Fisherman Pin,
Ebay

Owl Pin,
Etsy
;
Elephant Pin;
Etsy
Pair your broaches with your own favorite blazer, or if you need a few suggestions...
Chambray Schoolboy Blazer,
J Crew
Style Portfolio Knit Jacket,
Bloomies
Aqua Boyfriend Blazer,
Bloomies
This might be one of the quickest, easiest Anthro looks to re-create on a shoestring. While we love Anthropologie, a lot of their looks tend to look great in the catalog but a little to vintage-French-bohemian-librarian for real life wear. The vintage broach approach, however, is a style that would fit into most of our day to day loves and office wardrobes. I'm off to hunt for some vintage pins right now...