For sale- fantastic vintage brass and glass obelisk shelf. This would be perfect for displaying small items such as Herend figurines or anything teeny that gets lost on a big shelf! Perfect sitting on a desk, dresser, or tabletop. It has four shelves of decreasing size. The sides are glass and the front and back are "open." Styled here to give you an approximation of size. You won't find this anywhere else! If you are interested please email
mattersofstyle@gmail.com
.
Shelf- $60
Shipping - $12 (or local pickup in Washington DC)
Only "flaw"- there is a small crack in the glass on the very top on one side. Hardly noticeable unless you are looking hard, but thought I would point it out!
We never get tired of obelisks- considering they've been around since ancient Egyptian times it looks like they have staying power!
New York Social Diary
You might recognize this famous obelisk!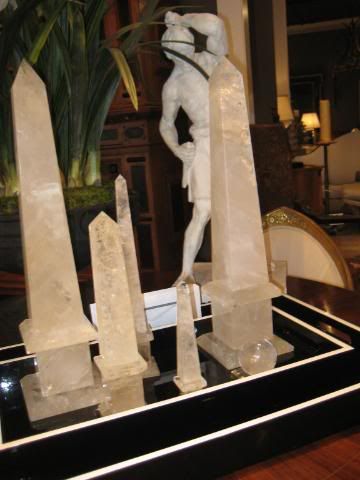 Williams Sonoma Home