Spurred on by a little furniture makeover project I've been working on, I've been doing a bit of background research on campaign furniture, one of my favorite styles. I'm happy to say that unlike a lot of other design elements I love, campaign furniture hasn't suffered from terminal overexposure quite yet...let's hope it stays that way!
Campaign furniture had its origins in the British army. During the height of the British empire its soldiers were all over the world and needed to bring the luxuries of home with them!
A little more background info:
For Great Britain's gentlemen soldiers stationed in India, Africa, the South Seas, and North America, campaign furniture brought the comfort and civility of home to "life under canvas." Collapsible and compact, made to be carried on the march and assembled on site, these folding chairs, desks, and cots—used by armies since ancient times—reached an aesthetic apex in 18th- and 19th-century England. To convey their social status, gentleman soldiers stationed abroad ordered entire suites of the ingeniously designed, elaborately styled, fold-up furnishings, and manufacturers such as Chippendale, Sheraton, and Hepplewhite furiously competed for commissions. From
British Campaign Furniture: Elegance Under Canvas, 1740-1914
Of course, real antique British campaign furniture will cost you an arm and a leg, but it's always fun to look. It is simply amazing how these large pieces of furniture and chairs collapse into practically nothing for easy transport. Truly a feat of engineering!
Solomon Brothers Camp
Washstand
;
Teak Campaign Chest
(notice how the chest doesn't actually collapse, but splits in half to make hauling it a bit easier).
Of course, much of the colorful campaign furniture I have my eye on is not exactly from the height of the British empire. Let's just say that no one in their right mind would decided to slap some paint on a gorgeous antique worth nearly $10k. Luckily a lot of campaign repros popped up in the 60's and 70's and are perfect for makovers. Of course the quality is nothing like the original, but neither is the price! A lot of these pieces are veneer, which makes them perfect for painting over.
Lonny.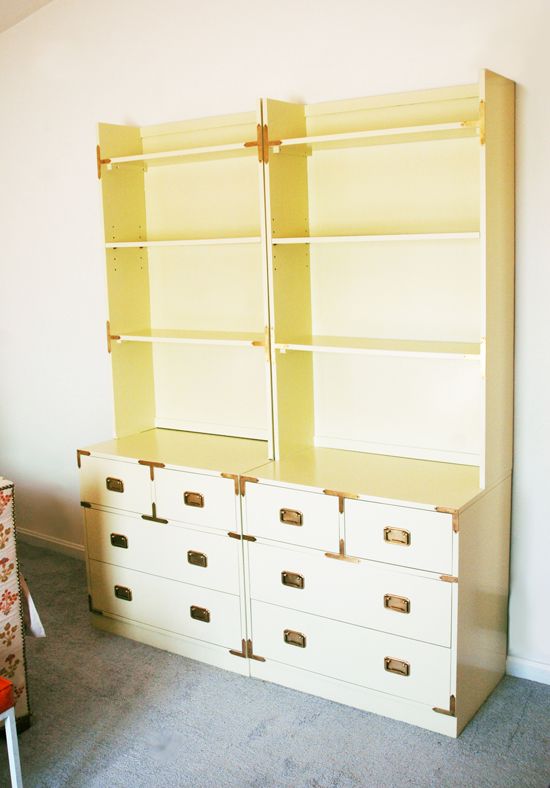 To score some campaign pieces of your own, check out Ebay, or better yet, keep your eyes peeled on Craigslist and in thrift/vintage stores. I have seen campaign furniture in Goodwill before for next to nothing!
And stay tuned for the outcome of my furniture makeover, which we'll be featuring very soon. Let's just say it starts with this (mmm, 70's veneer!)
And ends with something AMAZING!!!!