Halloween has come and gone, and now that we have come out of our candy comas we can focus on the next important task at hand--ordering our Christmas cards. Last year I procrastinated a bit and sent them out a week or so before Christmas, but this year I'm determined to get them out a bit earlier.

People typically fall into two camps with Christmas cards- photo cards and greeting cards. Which one do you typically send? For the last couple of years I've been sending photo cards, and I must confess that I love receiving them and catching a glimpse of what the sender has been up to during the year. But then again, I love the gorgeous, sophisticated illustrations that some greeting cards have to offer.

If you are a greeting card devotee, or simply aren't feeling particularly photogenic this year, or just need a few extra holiday cards as backup, here are a few of our favorite greeting cards:

These
Bicycle Cards
from Two Guitars on Etsy celebrate the relaxed, casual side of Christmas. 10 for $22.
These
reindeer cards
from Kerrispath on Etsy would be perfect for jotting a pre-Christmas thank you note! 10 for $12.
If you have young children it would be charming to put them on this
Custom Silhouette Card
from Etsy. 12 cards for $50.
I am a sucker for having pets feature prominently in a Christmas card, and I love these
Custom "Merry & Bright" Pet Portrai
t Cards
from Fuzzymug on Etsy. They take a picture of your pet, digitally transform it into a portrait, and give him the Rudulph treatment! 16 for $50.
I cannot resist Meri Meri cards. Though they're too expensive to send to everyone on your Christmas card list, have a few on hand for special notes isn't a bad idea.
3 Kings
by Meri Meri. 6 for $30.
I think this is my very favorite Christmas greeting card of the bunch. The colors remind me of an assortment of Herend animals.
Reindeer Games
by Kate Spade, 10 for $30.
If you're looking for lovely, elegant cards Crane is the old standby. If you're particularly organized you can go to the Crane store the day after Christmas and get your cards for the following year at 50% off.
Holiday Mantle
by Crane, 10 for $34.
I'm not sure what rock I've been living under- I had no idea Lilly Pulitzer was making paper products now. I love the sophisticated preppy giraffes on these
Bella
cards. 10 for $20.95.
Monkeys are enjoying a tad bit of overexposure lately but we'd still love these
Holiday Monkeys
by Vera Wang. 25 for (gulp!) $241 (for that price, do they send Vera over to lick the envelopes?).
Photo cards have come a long way with the advent of the digital era. While photo mount cards are still widely available and present the favorable option if you're looking for paper quality, digital cards are also becoming popular since you can achieve a custom look very inexpensively.

I particularly love the colors in this one, and the elegant border. Though the dad in this pic looks like he'd rather be somewhere else...

I decided to embrace the digital era last year and ordered these
Lattice Print cards
by Martha Stewart for Kodak. The price was right- $6.99 to $10.99 per set of 10 depending upon number of sets ordered. They looked great with a black and white wedding photo, and you can choose from a variety of layouts. My only complaint was that the card stock was a little flimsy- it was basically the same stock a photo would be printed on, while I was hoping for something a little heavier.
I like the Mid Century Modern meets West Elm vibe I get from the
Mod Reindeer
by Simon & Kabuki for Kodak. $14.99 to $19.99 per set of 10 depending upon quantity ordered.
More digital selections- probably a step up from Kodak!
Giraffe
and
Crimson on Houndstooth
Digital Photo Cards from Stationery Studio. 20 for $44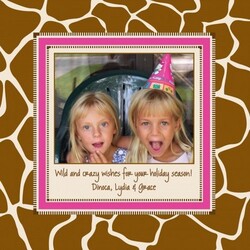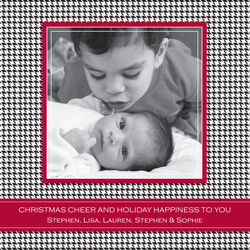 You can't go wrong with Boatman Geller's cards for any occasion, and their Christmas line,such as this
Houndstooth Brown
, does not disappoint. 25 for $82.50.
More elegant Boatman Geller- this
Blossom Red
looks great with black and white pictures. 25 for $82.50.
More Lilly, and the price is surprisingly reasonable.
Taboo
Imprintable Cards by Lilly Pulitzer. 10 for $16.95.
Have you started planning your Christmas cards yet? Any resources for great cards that we're overlooking here? Do tell!