One of our favorite accessories to emerge for the fall/winter season is the snood. Aside from being a word we just like saying, a snood is a type of modified scarf that is basically one continuous piece of fabric. Some are shorter like a cowl, some are longer and meant to be wrapped around your neck a few times, but either way, we are becoming big fans. And, according to the
Wall Street Journal
, so is the rest of the country.
Technically, the word "snood" originally meant a type of hair covering that has been popular for centuries, from the renaissance to the civil war era and back again in the 20th century. However, these days the word "snood" is also used to describe a type of scarf. It's a British word and apparently U.S. retailers aren't enamored with it, which is why in the U.S. you will find snoods called a variety of other terms. Snood = urban cowl, tube scarf, infinity scarf, circle scarf
Oh yes, and google "snood" and you'll invariably come across some sites pedding things like this
Black Tapestry Snood
for dogs- apparently a snood is used to keep the long ears of large dogs clean- out of their food and off the ground. Who knew?
Now this is the type of snood we're talking about-
Burberry's Snood
which has really brought the trend to center stage. On its own is looks like a funnel neck...
But on it has the most wonderful and cozy drape! Burberry's novacheck snood only comes in cashmere, to the price is a little steep.
Missoni was another major designer to show snoods on its fall runway- apparently this
Missoni Snood
is sold out at several retailers.
It's only fitting that British company Topshop would make a great snood- and we love the relaxed, casual stripes on this
Topshop Knitted Striped Snood
.
For a pop of color, try the
Echo Single Infinity Scarf
, and the Limited is also in on the action with its
Chunky Infinity Scarf
.
The
Vince Ribbed Cotton Circle Scarf
isn't flashy but it would definitely go with most any outfit.
We have a feeling the
Banana Republic Cashmere Infinity Scarf
is super-cozy. Maybe a snood for staying in?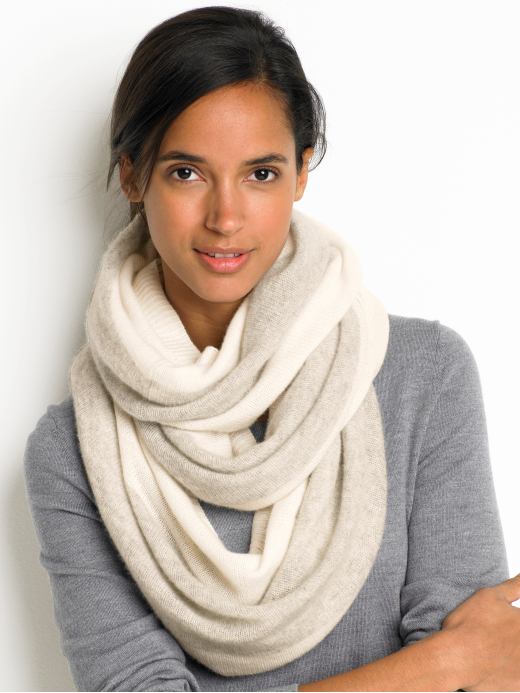 Etsy is a source for a variety of well-priced snoods; search both under snood and cowl. Some are a little crafty for our taste, but others, like this
Lillyandlulu Urban Cowl
, are positively chic.
Fur snoods are also quite popular this fall on the runway- photo via
fashiontime.com
Burberry's Rabbit Snood
is terribly stylish but the pricetag is invariably high. As an alternative, we love the look of this
Nancygamon Faux Fur Tube Scarf
from Etsy (but you have to get past the creepy mannequin...we don't blame you if you can't).
American Apparel makes a
Unisex Circle Scarf
in a rainbow of colors that can do just about anything short of washing the dishes. Wear it as a cozy snood...
Use it as a head covering to stay warm, or as a dress or skirt if you're really adventurous.
Our favorite snood in terms of style and price is the
Roxy "Mysterious" Infinity Scarf
. We are loving the modified leopard print, and the fab idea of wearing this as a type of shrug.
Is there a snood in your future this fall?