Happy Friday, everyone! Where in the world has this week gone? Is anyone else a little bummed it now gets dark by 5:30pm?
Today's post was inspired by
this article
in the Wall Street Journal that MoS Charlotte recently found. J Crew recently awarded its creative director, Jenna Lyons, a cool $1 million bonus to stay with the company another four years. It's nice to see that in this economy someone is still getting a bonus! For J Crew, it's money well spent considering Lyons has taken the company to new heights since becoming its creative director in 2007 (she started working at J Crew in 1990 as an assistant designer).
Even if you've never heard of Jenna Lyons, you've probably noticed that J Crew has undergone a gradual but noticeable transformation over the last few years. In the 90's and early 00's, the most exciting thing you'd see in a J Crew catalog was a new color chino or a new type of embroidered critter. Don't get me wrong, I've loved their clothes for the last decade- but none of it was particularly chic or fashion forward 'till Jenna came along!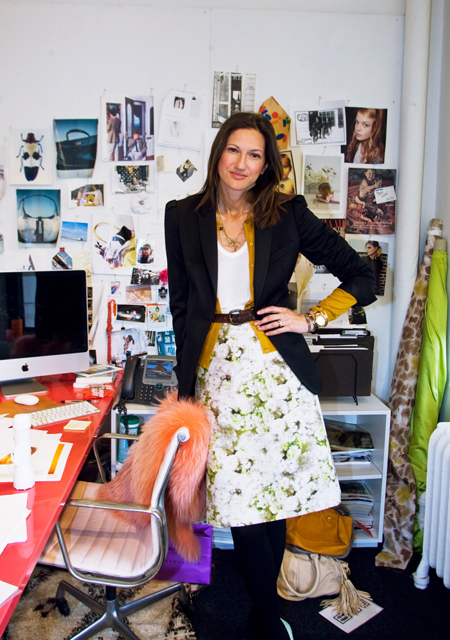 Above, Lyons in her office at J. Crew. She only wears high heels in her day to day life- wish we could say we were equally glamorous!
Photo Courtesy The Huffington Post, which also has a great profile on her.
The whole "cargo pants with heels" look that you've seen in countless J Crew catalogs- all Jenna. She was wearing cargo pants and heels the day that Millard "Mickey" Drexler, the chairman and CEO, asked her opinion about some bland stretch pants and sweaters the company was selling (side note: J Crew black stretch pants got me through college. What can I say, they were "in"!). When she said she didn't like the items, Drexler scrapped them and then told Jenna to design what she was wearing. The pairing of casual and dressy, everyday pieces paired with dressy accents, is a juxtaposition that J Crew is now known for. You can read more about this story in
this great article
from the LA Times.
Of course, another reason that Jenna Lyons is known in the fashion and design circles is for her fabulous Brooklyn brownstone she shares with her husband and young son. You've probably seen countless pictures of this from Domino, but the house was re-shot two years later for
Living, Etc.
You can tell her decorating style perfectly matches her design aesthetic from J Crew- a dramatic gilt mirror on a majestic old marble fireplace mantle is juxtaposed with a cheerful, modern yellow couch on the cover.
We love the little shoes lined up in the entry way!
Fantastic collection of antlers in the dining room- and with that molding the room could be bare and still look fantastic.
Vintage bath tub looks very zen...
Notice the black bedroom walls- I believe Jenna said these are done in chalkboard paint!
More horns- hooray- but the most amazing part of this room is that she's devoted the entire thing to her shoes and clothes. A girl after our own heart...
Her son Becket's room- that yellow striped ceiling has been the focal point of many a blog. And more fantastic fireplaces! Lucky!
The lovely garden.
So next time you get an email from J. Crew titled "Jenna's Picks", you'll know which Jenna they're talking about....
Another transformation at J Crew that Jenna has spearheaded is the J Crew Collection- basically J Crew at high fashion prices. We must confess, MoS Charlotte and I have often scratched our heads at who in the world would spend $3,000 on a dress from J Crew. But apparently someone does- the Collection has reportedly been very successful.

I am forever grateful to Jenna for the abundance of ruffles she's bought to J Crew. Modern ruffles, not little girl ruffles. How I love this
Frances Stripe Ruffled Tuxedo Shirt
.
From the Collection- yes, it's expensive. But boy is the
Gwynn Dress
gorgeous.
J Crew's jewelry line is pure genius. There was definitely room in the market for affordable, chic costume jewelry and J Crew has found it. Loving this
Crystal and Pearl Pastiche Necklace
.
One of Jenna's picks- did you ever think that the J Crew of yesteryear would be peddling
Silk Taffeta Belted Shorts
? I would actually love to try these on and see how they look in real life.
J Crew's branding and marketing has come a long way since I first started getting the catalog; who would have thought that the go-to catalog for waffle henleys would end up cornering the market on floaty, sleeveless silk shirts?
So this Friday, we salute you, Jenna Lyons! Thank you for showing us that you can wear a puffer vest with a skirt...

...for making ruffles fit for grown ups...

...for showing us that tights go with everything...

...and that it is perfectly ok to wear a necklace over a turtleneck!

Have a great weekend, everyone!