Perhaps it's the fact that I recently read
When You Are Engulfed in Flames
, the latest work from the brilliant and humorous David Sedaris, which features some in-your-face skull cover art, not to mention an entire story devoted to the author's "conversation" with a skeleton he purchases in France (trust me, the book is not as weird as that makes it sound!)...
Or perhaps it's the fact that I have always loved taking convention and turning it on its head just a little bit...like with this sleek black lacquer tray I recently spotted at Pottery Barn. Though it's technically part of their Halloween decor, I would not hesitate to use this the 11 other months of the year...
Pottery Barn Skull Tray
Whatever it is, I'm a little skull-happy lately, and judging by all of the stylish, chic, and decidedly non-gothic skull paraphernalia on the market these days, the skull motif is fit for year round consumption.
One of these days I would love to acquire one of Smathers & Branson's jolly roger needlepoint belts. They have your traditional black and white jolly roger
that we blogged about
a couple of months ago, but this pink and green women's number is a close second...
Smathers & Branson Pink Jolly Roger Belt
I also love Ralph Lauren's collegiate-inspired twist on the skull & crossbones on this bedding. It's definitely an unexpected motif that you could pair with a traditional plaid/masculine comforter, or shake things up a little and do something completely unexpected like a feminine pink duvet cover!
University Black Skull Sheeting, Ralph Lauren
We're awfully impressed by the fact this cool pink skull plate is actually a DIY project. How fun would it be to create a set with a pink plate, a purple plate, an orange plate, and a green plate?
DIY Skull Plate
If you are a (understandably) not about to spend your Saturday afternoon making your own skull plates, or don't have pink fishnets lying around the house, how about a personalized melamine one? Not really for use with company, but fun nonetheless.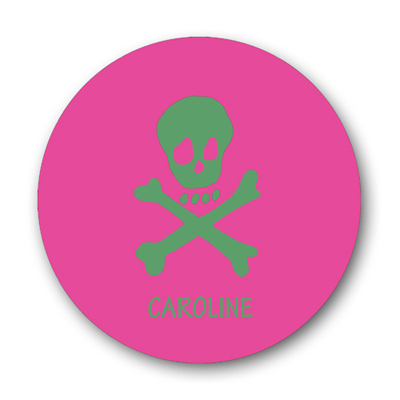 Personalized Melamine Plate
, Preppy Plates
On the recent Eddie Ross flea market tour I attended, Eddie was rocking a skull & crossbones webbed belt...not the exact same this one, but very similar.
One of my favorite Stubbs & Wootton patterns that they've had around for a while and hopefully will keep till I can afford a pair!
Stubbs & Wooton Skull Slipper
I am dying over these skull & crossbones baby slippers from Ralph Lauren- they are so fabulous. My only concern is that they might be kind of scary to a baby? We might have to have mom-to-be MoS Charlotte weigh in on this one.
Velvet Skull and Bones Baby Slip-on
, Ralph Lauren
I'd love to rock this ring at a cocktail party!
Skull Ring, Dior Fine Jewelry
Alexander McQueen is doing a lot of skull accessories this fall, and this ring is a highlight.
Alexander McQueen
Bee-Topped Skull Ring
I love this unexpected twist on little stud earrings...slightly subversive in a subtle way.
Tom Binns
Tough Chic Skull Earrings
More Alexander McQueen. Again, I think the power of the skull is in subtlety. The skull clasp on this purse is brilliant and unexpected.
Skull Clutch, Alexander McQueen
We have been a little bit of a broken record touting Z Gallerie lately, but they've got great stuff that's all over the style map. This beaded pillow would definitely jazz up your favorite chair. Again, I see this as perfect for year round use (or at least all winter) rather than a "decoration" per se.
This skull scarf is unexpected...we love the purple color, and think you could actually get away with this in the office.
You'll be yo-ho-hoing away once you drink whatever you've got in this flask!
Jolly Roger Flask
, Smathers & Branson
I love the skull motif on these cards because it evokes a "natural history" vibe- the same antique, organic style as coral & rock specimens, antique animal prints, and mounted butterflies.
Add an unexpected twist to even the most prim and proper stationery by sealing the back with a skull sticker (and the price is right!)
These letterpress skull & crossbone personalized cards are really stunning. We are constantly amazed at the fantastic products we see on Etsy- check out the rest of this seller's letterpress items- you'll want it all!
Are skulls in your fall/winter forecast? Do you favor the home items, the jewelry, or the accessories? Or neither? Tell us where you stand on the skull spectrum!
**Update***
An alert reader just clued us in to Target's seasonal home line that is quite heavy on the chic skulls...how did we miss that? A few favorites...
Bone Collector Cocktail Plates
Bone Collector Serving Platter
- love how this looks like your normal chain-link pattern from far away.
Skull Melamine Appetizer Plates
Oh, and one final note...it goes without saying that we advocate one skull accessory at a time, lest your guests feel like they are being served cocktails at the Addams Family's house!