While the MoS Girls may eschew the creepy, cheesy aspects of Halloween festivities (no fake cobwebs on our front porch or plastic tombstones in our yards, please!), there are two aspects Halloween that we wholeheartedly embrace: 1) candy corn and candy pumpkins (I cannot even buy them or I will eat the whole bag in a day!) and 2) costumes! I'm sad to say it's been a few years since I actually had a reason to dress up, but this year there are so many good costume ideas out there that I may just have to don one regardless.

If you're still looking for costume ideas then we
highly
suggest hopping on over to this handy
Mad Men Halloween Costume Guide
courtesy of
MadMenShow.com
. The site has plenty of tips for channeling your inner Betty, Joan, Peggy, Don, etc., along with tips about getting the atmosphere just right with appropriately themed music, decor, and movies. Plus it even gives a shout out to our previous blog post about Mad Men fashion!
We think that going to a Halloween party as your favorite Mad Men characters would be a fantastic his 'n hers costume, and the best part is that vintage clothing and accessories can be had on Ebay for a song! And while you might not wear full on 60's style regalia in your day to day life, I think that many of these dresses and accessories would incorporate quite nicely into your year-round wardrobe when worn with more current pieces. For example...

Thia
pink empire dress and duster
is a perfect "formal Betty" outfit. When you're done, lose the duster and cut it off to be short. Now if only we could get her chic hairstyle down pat...

Best. Maternity. Dress. Ever.
I LOVE this "Betty goes to Italy"
floral maxi dress
. I'd probably cut this off to be a shorter dress because I don't think I could pull of a maxi dress. That's the great thing about vintage stuff on Ebay- since most of it is inexpensive you don't have to be afraid of tweaking it to fit your own, modern style.

This
60's green dress
reminds me SO much of a ruffled wrap dress that Milly made a couple of seasons ago. I could see Pete Campbell's wife, Trudy, wearing something like this, couldn't you? Bonus points if your date goes as Pete, and the two of you spontaneously decide to
dance the Charleston
in the middle of the party!

Love this classic
pin up dress
- I could see it going with a Betty costume or a Peggy depending upon how it was styled.

There are plenty of full-skirted crinoline dresses on Ebay, but for costume purposes they can be a a little pricey- good ones like this
garden party dress
go for about $100-$300.

For an office inspired costume, we love this
Vintage Sheath Dress
. It's modern enough to wear to your own office, don't you think?
The ultimate Joan dress- a
Red Dress with Matching Jacket
. Fire engine red, slinky, form fitting- just like the dress I'm wearing at work today (kidding!).

The 60's was big on brocade and we think you could style this
Asian Brocade Dress
in a lot of different ways. We love the gold belt paired with it.

For a "pre-makeover" Peggy, this basic
pink and white check dress
is definitely something that she would have worn outside of the office.

It reminds me of a more casual version of Peggy's church dress.
Of course there's a chill in the air these days, so a fabulous 60's cost can both enhance your costume and keep you warm on Halloween! Ebay is chock full of fantastic vintage coats- we could spend days looking at them all!


How classic is this
vintage coat with a faux fur collar
? Love the vintage appeal of the swing-coat silhouette, the big buttons, and the collar.

Reminds us a lot of Betty's camel jacket that she wears after riding.
We see Peggy sporting this
blue tweed coat
. We love the color and, of course, the dramatic collar.
This
Striped Jacket
holds retro appeal but would actually still look current today, don't you think? Very Kate Spade!

Complete your Mad Men look with a touch of vintage fur. Here's a tip- they practically give away vintage fur on Ebay. Stoles, wraps, jackets, collars, you name it- it's almost sad how cheaply you can buy it.

I have my grandmother's
Mink Stole
similar to this one and I love slipping it on for a special occasion!

This
Vintage Mink Stole and Hat
set is so 60's! I see Trudy wearing this!

What fantastic vintage
Feather Hat
. I wish people still wore hats like this!

Don't forget some glasses-
cateye
for you....

And
geek chic
for him.

And of course, the accessories you choose will make or break the outfit. We think Betty would pile on some big bead necklaces, like this
Bead Necklace and Earring Set
.
For something a little dressier, we'd wear this
texture bead necklace
. It would look absolutely fantastic with a non-Halloween outfit too!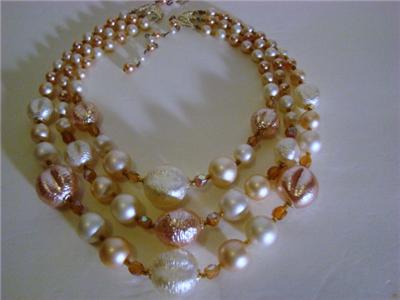 Of course Joan loves the long pendant necklaces like this
60's tassle necklace
.
It's very similar to this one that Joan sports quite a bit.
There is no shortage of vintage owl pendants on Ebay, and they are so fantastic. Will someone please tell Kelly Bensimon that she did not invent owl jewelry? You can show her this colorful
owl pendant
to prove your point.
You're almost ready for the party...before you go, don't forget to grab your
crocodile purse
...

Or your wicker one with lucite handles, depending upon the occasion. Though Kate Spade brought back wicker bags, I love seeing the original ones on Ebay that are a fraction of the price of Kate's!

Finally, you might want to pick one of these Brooks Brothers limited edition
Mad Men suits
for your date ($998), although according to the website they're already sold out (and they just went on sale Monday). Only 250 were made, which might explain the shortage.
Hope you have a Mad Men inspired Halloween. Are you planning to dress up? What is your costume of choice? Do tell!