We have to admit that when we think of J.C. Penney we tend to think of the dreary store at our local mall that we haven't been to since the 80's. In fact I don't know that we've set foot in a J.C. Penney since the 80's. However, in the last year or so we have taken note that J.C. Penney has really stepped up their game in the affordable-yet-chic home realm. In fact, their accent furniture is nothing to sneeze at, and offers some shockingly fantastic pieces at equally shocking prices.

The lovely and legendary Cindy Crawford has recently stepped in with a home collection for J.C. Penney. Something tells me Mrs. Gerber makes some bucks from lines like this- for a few years now she's even had a collection of sofas for Rooms to Go (do not ask me how I know this).

Whether the big name designers that J.C. Penney seems to be, um, "inspired" by will agree is debatable. Take, for example, Annie Selke, whose ottoman I have been drooling over since seeing it used in the Dash & Albert catalog:

J.C. Penney's answer to Annie's ottoman- a smaller version they call a "footstool". You can't use this item right out of the box- at the very least, you'd certainly need to add some fabric to the cushion to cover the boring white it comes with. We would also love to take a can of Rustoleum to this bench and spray it a fantastic color red, yellow, black, even white.

We are also oohing and aahing over this chinoiserie-inspired etagere. No Rustoleum needed! How fab would this look in your living room, or even in a bathroom for holding towels, etc?

We have mixed emotions about magazine racks, but have a hard time resisting this one.

If you can't afford Annie Selke's nailhead storage ottomans...

Perhaps you'd want to give Cindy's a try? Sure, the nailhead details really don't compare, but J.C. Penney is really doing good work on the ottoman front.

Take these fab ottomans with the greek key motif from Neiman Marcus...

You'd have to look closely to tell the difference between the $1k version and the under $100 version.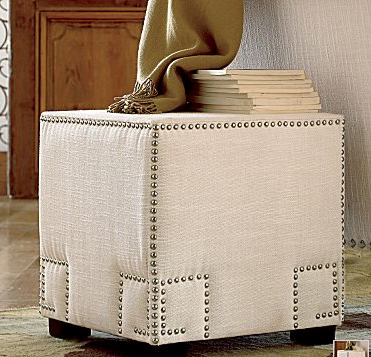 Canvas Cube Ottoman, $79 (sold out, rats!)

We love this cowhide ottoman, just not the pricetag...

The J.C. Penney version adds the same flair for a fraction of the price.

Go ahead, check out the J.C. Penney home website and tell us what you think! We think you'll be pleasantly surprised. We are not sure if these items are available only online or if they are in brick and mortar stores too...do let us know if you have any intel!

***Coming up next week***

We are meeting the one and only (and fabulous)
Eddie Ross
this weekend in Northern Virginia for his tour of the D.C. Big Flea and cannot wait! A recap of the tour (and hopefully of our great finds) to come next week, so stay tuned.