In order to create balance in a room, we advocate adding accent pieces that add an organic touch. Be it a geode bookend, a lovely orchid, a fantastic coral specimen, or even a bowl of lemons, there's something about adding a touch from the natural world that adds interest and life to a room.

Our new favorite organic touch- the giant clam shell. You can do a number of things with them- put them in a kitchen with fruits and vegetables, use them for magazine storage on the floor, pot a plant in them, use them as a champagne chiller at a party- the possibilities are endless! These also reminds us of the 20,000 Leagues Under the Sea ride at Disney World- always a plus to conjure up good childhood memories!

We love the picture below because it shows that a giant clam shell does not have to be in a "beachy" house. It's a fun and unexpected combo with the antlers!

We adore the use of the giant clamshell as a magazine holder on the floor. Also dig the coral specimen in the fireplace.


The giant clamshell as a planter is always striking. It looks amazing with orchids, like the pairing was meant to be.

If you've got a large coffee table, then a giant clam can create an interesting focal point when filled with orbs or other "bowl fillers."

This is perhaps our favorite photo...everything about this room is just right. The mirrored console, the lucite lamps, the coral specimens, the velvet covered chairs, the zebra pillows- this is definitely proof that a giant clamshell can add a luxurious touch even to a room defined by urban glamor.

Photo via Decorno

As this photo indicates, giant clamshells come in varying sizes- some are large enough to take a bath in, and some are a little smaller.

You can even make a sink out of a giant clamshell. We are not nuts about the faucet pictured below, but you get the idea! This is probably best left to homes in Florida, though.

What an unexpected use of a giant clamshell- for drinks at a party! Definitely more glamorous than a plain old cooler.

Another use as a planter- the greens dropping down is a nice touch.

So by this time I'm sure you're thinking "where can I get my own giant clamshell?" Well, the answer depends upon how much money you'd like to spend. Genuine clamshells can be pricey- from a few hundred dollars to over a thousand (although, if you watch ebay, you can probably get one for under $200). It is illegal to harvest giant clams in the wild anymore, however, giant clams are being raised on clam farms for meat, creating a supply of sustainably harvested shells.

However...there are a number of resin and fiberglass reproductions being offered that look nearly identical to real shells, and cost a fraction of the price. Take a look at this one offered by Z Gallerie, of all places...

This one from Ballard Designs is great too...

Ballard Designs (out of stock)

The real deal from a shell seller- it will cost you, but isn't it beautiful?

The picture does not do it justice, but we like this piece from Crate & Barrel, and the price is right too.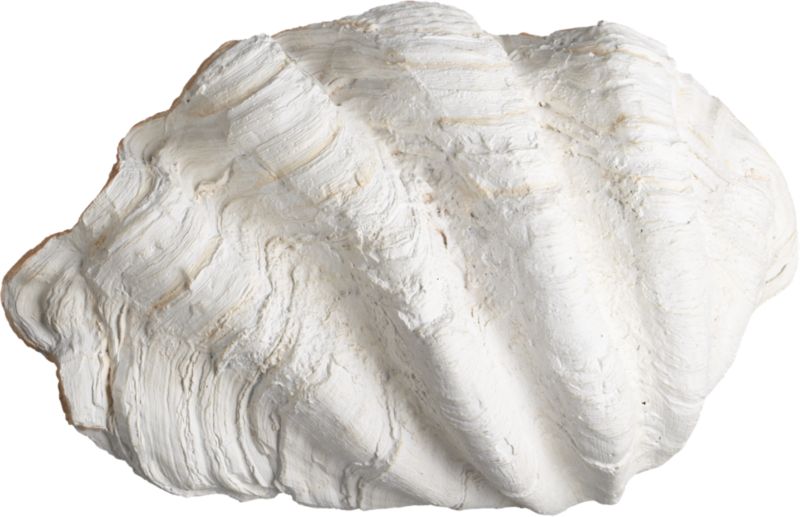 We would love to display the whole clam- they really are breathtaking.

Of course, in searching for pictures we happened to come across this, um, interesting one. We advocate putting most anything in a giant clamshell, but draw the line at babies! Try not to be haunted by this picture every time you see a clam shell from now on. Thanks a lot, Ann Geddes.

Hope everyone has a lovely weekend!