Most every day we write on our blog about the things we love. Every day it's "how cute is this? "how fab is that?" Our focus is the fabulous, the eye-catching, the one-of-a-kind.

However, lest you think that we swoon over everything we clap eyes on, today's post is a voyage into trends and items that are most appropriately described as
bad idea jeans
. These are elements of home decor and style that either make no functional sense, are horribly overpriced, or are wildly popular despite being just plan ugly.
Tomorrow we'll be back to the pretty, but in the meantime let's take a look at what you won't find in either of the MoS girls' homes...

Isn't the whole point of placing things on the stairs to remind yourself to bring them UP the stairs and put them away? A stair step basket sents an invitation to clutter that says "come, stay a while, have a cup of coffee! You can make it upstairs sometime next week." And we're not sure who stores wine or other bottled liquids on their stair step...if your staircase is so long that you can't climb it without replenishing your fluids, perhaps consider an escalator?
While we're not exactly sure why you'd want to fill a bowl with clothes pins in the first place, what frustrates us the most is that you can get the exact same thing at any
art/craft
store for $2.31. Color us cheap, but we are just not that into 800% markups!
3) Accent Walls. Especially red ones.
There are extenuating circumstances in which an accent wall can be fab, but 99% of the ones we see do not qualify for such an exception. We blame HGTV for perpetuating the myth that it's appropriate to slap Crayola colored paint on one wall and call it a day.
jpg">
4)
Papasan Chairs
from Pier 1 or similar sources, $69
Dear Pier 1 Imports,
As you can probably tell when you tally up your sales records, we are your biggest fans, but it saddens us that you must continue to produce relics such as the papasan chair. There are seemingly enough of these chairs on Craigslist to support the current demand, so would you consider taking a break in production for a while? We'd be awfully grateful.
XOXO,
The MoS Girls
5. Pot Filling Faucets
Ok, let us clarify. We do not dislike pot filling faucets
per se;
they're not bad looking, and we acknowledge that they symbolize that their owner has achieved a certain status in the luxury kitchen realm. But really, when was the last time you filled a pot big enough to cook macaroni for the entire Dallas Cowboys starting lineup? We felt vindicated when we read that uber kitchen designer Christoper Peacock stated in this
New York Times
article that a pot filler is something his clients often request, but seldom use. Until Tony Romo & Co. are coming over for spaghetti night, you can probably manage to carry your pot from the sink to the stovetop.
6) Swag Curtains

And even more paintful, swag and jabot curtains.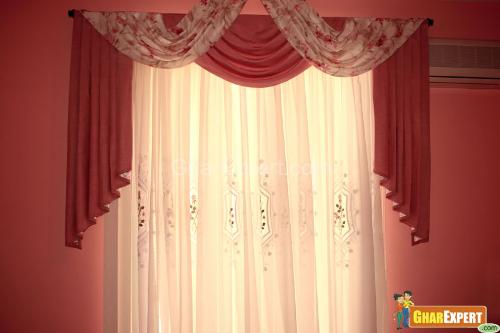 Luckily we don't run across this 80's relic too often anymore. If we had to pinpoint why this style bothers us so much, we'd have to say that it's usually a case of the window treatments being too "grand" for a room. If you happen to live at The Breakers and have some 30 foot ceilings to grapple with, then by all means, go all out. For example, we don't mind swag as much when it's subtle and in a large room with lofty ceilings, like this one below:

7) "Faux-riental" Rugs

An oriental rug without tassels is like a martini without olives. It's got the basic elements, but it's just missing something essential. The "real deal" oriental rugs are hand-knotted, hence the tassels, which are the foundation of the rug. There are a variety of less expensive alternatives out there that are machine made, and after all, a hand-knotted rug does not fall into most budgets these days! But if you get a machine-made oriental rug, we'd highly suggest avoiding the faux-riental look getting one with tassels that give the same effect as the real thing.

Today MoS is going interactive! Take our poll below.