A few weeks ago, we posted
this
piece on using a vintage sterling cigarette case as a credit card holder/slim wallet. One of our favorite things is finding modern uses for silver pieces that otherwise might be outdated in terms of their original purpose, and we've gotten some fab ideas to this end from our readers. For example, there are a host of smoking-related items out there that are gorgeous, but (thank goodness) no one really smokes these days. Even those who do smoke probably keep it on the down low rather than celebrating it with sterling silver smoking paraphernalia! But these items can easily be re-purposed, as can many other items whose original use might not be in sync with today's practices.
A few of our favorites...

Not many of us make a full breakfast complete with six (or more) slices of toast out on the table, but toast racks are ideal for re-purposing as a mail/paper divider. Even those dreaded bills will be a little more palatable when stored neatly in a chic toast rack! We see these all the time on eBay...sterling can be expensive, but there are plenty in silver-plate that are more affordable alternatives. Also great to keep an eye out for these at antique stores and flea markets!

Cigarette urns are the perfect size for storing q-tips in a bathroom! They'd add a special touch to any guest bathroom. You can also use them to store toothpicks, although hopefully most of us use q-tips more than toothpicks! You can get sterling cigarette urns on eEbay for a song...


This one is $49, not bad for a sterling piece!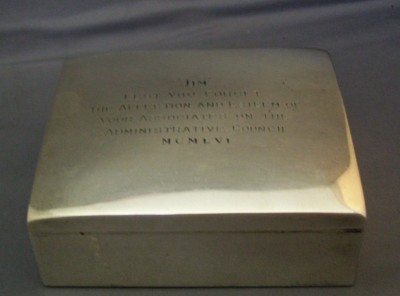 The next sterling item we have our eye on is a cigarette box. These are smaller than they seem in pictures- about from about 4" to 6" wide and about 2"-3" deep. We'd love to set one on our bedside table to keep jewelry/lotion/lip balm handy. Also, we hear these make great holders for business cards. This would be really striking on the edge of your desk holding your business cards. Preferably bone colored with sirlian rail :-)

Silver compotes and nut dishes
With hors d'ourves, half the battle is the presentation. A simple snack of mixed nuts or olives will look infinitely more glamorous when served in a silver compote.

However, these little dishes aren't just for food. Use them as a glamorous resting place for your favorite jewelry and cufflinks.

We don't love the kindergarten teacher-esque bead necklace, but you get the general idea from the photo above!

There are a pleothara of small trophy cups on ebay, and we are always fascinated by the obscure clubs and awards they represent! We love the idea of owning a little piece of history. Measuring in at about 5", these little cups are perfect for girlie accessories such as makeup brushes, tweezers, nail scissors, nail files, etc.

The award for versatility goes to the mint julep cup! They can multi-task as a flower vase, a toothbrush holder, a pencil and office supply cup, etc. These come at all sorts of pricepoints- of course or favorite are the vintage sterling versions, but you can get silver plate ones for as low as $20.

Caroline Roehm guest room, Veranda

Silver champagne/wine coolers can have a variety of alternative uses. One ingenious use that we've heard is for storing hairbrushes and/or a hairdryer in them on a vanity. How fab would that be? We are also fans of putting orchids in plants inside them; they make a stately chachepot.
This
cooler
is a bit ornate, but you can see how fab it looks with a plant in it!
Do you have any favorite uses for old silver pieces? We'd love to hear your ideas!