Is it just us, or has this summer flown by? Just yesterday stores were peddling bathing suits and coverups, and this week it's on to corduroys, blazers, and jewel tones. Clothing and shoes aren't the only items that need to be swapped out seasonally...don't forget that these days headbands are a must-have accessory that have year round appeal. As much as I love my summer headbands (from, top to bottom, J. McLaughlin, Lilly Pulitzer, A Perfect Day in Paradise, and TJ Maxx), it's time for them to take a hiatus in favor of more seasonally-appropriate fare.
Below- a sampling of fall/winter appropriate headbands: extra wide tortoise headband from J Crew, black resin headband from J Crew, satin/feather headband from Forever 21, houndstooth headband from TJ Maxx, and skinny tortoise headband from J Crew.
Have you noticed that Gossip Girl has done for headbands what Sex and the City did for Manolo Blahnik? Headbands aren't just for schoolgirls anymore; today's fare is uber-sophisticated- a perfect way to add a sophisticated, whimsical touch to your favorite fall outfit. A few of our favorites:
Fancy Schmancy and we just LOVE it. MoS Charlotte first alerted me to the fact that feathered headbands were hot last fall, and they are back in full force for this fall. Jennifer Oullette
Extra Wide Feather Headband
More
Feather Headband
s from LovMely on Etsy. Isn't the peacock to die for? With those prices you can order the whole bunch of them!
We're a little obsessed with Etsy lately for just about anything- paintings, baby items, jewelry, bead supplies, and of course, headbands. How striking is this
Pheasant Feather Headband
from The Headband Shoppe? It could pass for being 10 times more expensvie than it really is! Such a statement. It reminds us of a toned down version of the fascinator headwear that is so popular in the UK.
For a little bit of retro glamour, try a sparkly headband like the ones below. Perfect for holiday parties, but equally lovely with jeans and a t-shirt.
We love how this multicolored
Gemstone Headband
from Jennifer Oulltette could add some sparkle to even a plain black dress.
When you want a trendy statement headband but don't feel like spending Barney's prices, just head to Forever 21. Yes, it's embarrassing to be the only person over 17 in the store, but it's worth the temporary awkwardness for the fab deals.
Bead Embellished Headband
, Forever 21
Ok, so when we were little our very favorite outfit was a Minnie Mouse dress- white bodice, red and white polka dot puffly sleeves and skirt, the works. So yes, we might get a little flack for saying we love this oversize satin bow headband, but we like to think we're just getting in touch with our inner child!
Sherry Satin Bow Headband
, Forever 21
Finally, no matter what the season or the occasion, you can never go wrong with classic headbands such as these beauties:
We love how a classic tortoise headband gets a tough-luxe makeover with gold studs.
Studded Headband
, France Luxe
While the over-the-top Prada turbans of last season were a little much for us, we'd definitely go for one of these toned down versions.
Silk Knot Turban,
France Luxe
If you love the timeless quilted look of a Chanel handbag, then grab this
Quilted Headband
from Dominique Duval for a fraction of the price.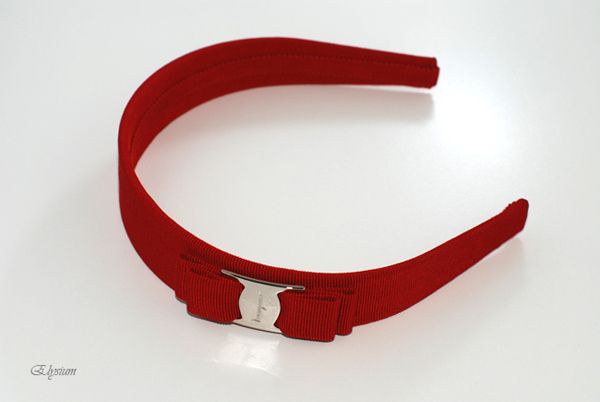 Of course, we'd love to get our hands on the holy grail of headbands, the Ferragamo grosgrain version with a bow on the side. We can't find a single on online- maybe we'll have to venture to a Ferragamo store to track down one of these beauties.
Do you have any favorite headbands for fall? Any great resources we haven't covered above? Fill us in by leaving a comment!