Ever since returning from Buenos Aires, where leather shops peddling cowhide products are as as ubiquitous as Starbucks are in the U.S., I've been debating the merits of the cowhide rug. In principle- love them. I love how each one is slightly different, how they add texture and interest to a room, how their irregular shapes can soften a room that is otherwise angular, how they add an organic feel to decor that otherwise might look slightly cold.
But in practice, cowhide rugs strike me as hard to decorate with. You've seen the pictures- is a barcelona chair a prerequisite to purchasing a cowhide rug? Do they make you buy them as a set at Design within Reach? Cowhide rugs don't just seem like something you buy on a whim and add to your current decor; they seem like something you have to decorate around.
After looking at all the pictures I could get my hands on, I've come to the conclusion that, well, there is no right answer. What makes a cowhide rug great is the same thing that also makes it very stylized. But there are more creative uses for them than plunking down new Barcelona chair and calling it a day. Let's take a look!
Remem
ber this rug from Monelle Totah's fabulous San Fran flat in Elle Decor? This is an amazing use of a cowhide rug. Her house doesn't look like a modern cliche; it looks welcoming and relaxed. Although, this does make us realize that cowhide rugs look best with monochromatic color palates.
Another "plus" for the cowhide rug after seeing this picture of Vincente Wolf's Manhattan loft featured in this month's Veranda. We love neutral-colored cowhide rugs; they tend to be less severe.
There is a lot going on in this room, but we do think the cowhide rug works. That futuristic table and chairs certainly benefits from the organic texture of the rug. House to Home, with cowhide rug by J & M Davidson.
This photo is from a (rather snarky) article from the New York Times (December 20, 2007) titled
"Flash in the Can: Designs Soon Forgotten."
Yes, the picture is deliberately staged to look like a cliche (we think), as the article decries certain "overused" elements of decor. It describes the cowhide rug as "a beloved and useful flourish to soften the hard edges of modern furniture," but then states that our beloved Celerie Kemble thinks the cowhide rug the flokati of today, "thanks to Design Within Reach — damn them!" Ok, we can sort of see her point.
But Celerie continues, saying, "'But I'm still inflicting cowhide on my clients...because it's a beautiful organic form and I still kind of like it." That makes us happy. Also, we would lend more credence to this article, but considering it also disparages lacquered Chinese chippendale chairs(swoon!) we are taking it with more than a grain of salt.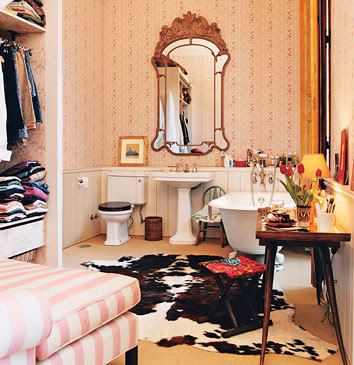 Here is a different twist on cowhide than we normally see. In Carolina Herrera Jr.'s dressing room, featured in Domino (via On Decorum), it's used in a downright feminine setting. Floral wallpaper, a baroque mirror, a pink and white striped chair....not the normal domain of the cowhide rug. But it works! This is very inspiring.
In this photo via Trendir, cowhide is back to its normal environment when paired with an x-based table and Phillipe Stark "Hudson" recycled aluminium chairs (which we love!).
In this photo via Living, Etc we see the danger of too much cowhide. Is that a matching ottoman? Matching pillows? Is this Cruella deVille's house?
More neutral colored cowhide rugs, this time of the patchwork variety. Textile designer Jack Lenor Larson's Murray Hill apartment, via New York Social Diary.
While this is not the ideal rug for those with children, pets, or messy spouses, the stark white rug is very striking. And again, we love seeing cowhide rugs in rooms that don't look like DWR showrooms. Photo via Decorpad.
We love the eclectic style of the cowhide rug in this photo via 3 Inch Heels. Someone is bold to pair a cowhide rug with leopard print stairs!
If you're looking for a cowhide rug of your own, you needn't spend a fortune to get exactly what you want. Apparently the most luxurious hides come from Brazil, but to be honest, we have a hard time really telling a difference between the super high end DWR rugs ($800) and the much cheaper ones you can find on eBay and all over the internet (for around $200). Let's take a look...
Zebra patterned cowhide rug, $290, Picked by Hand.
Detail of Parquet Rug, $336, Picked by Hand.
Even Ikea has gotten in on the action. Ikea Koldby, $249 (below). Stack of rugs at Ikea (above), via Apartment Therapy.
Brazilian longhorn cowhide, $329, Cow Hides International
Where do you fall on the cowhide conundrum? Are cowhide rugs overused or something that will stand the test of time? Do you prefer the traditional cowhide shape or the patchwork versions? Natural colored or zebra? Tell us what you think!